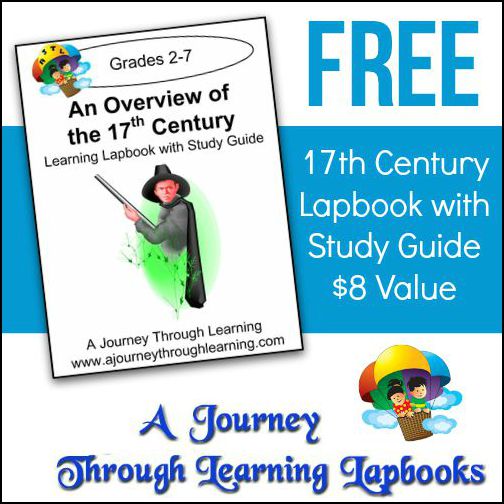 You can get this 17th Century Lapbook with Study Guide absolutely FREE when you subscribe to the A Journey Through Learning Newsletter.
Learn all about the beginning times of our country with this lapbook that covers many of the important events that occurred in the 17th century.
Topics include:
Native Americans – The First Americans
Who was King James?
Who were the Puritans?
Who were the Separatists?
The Pilgrims Come to American – Jamestown
Capt. John Smith Saves Jamestown
Pocahontas – Indian Princess
The Puritans Come to America – Mayflower Journey
The First Laws – Mayflower Compact
Squanto Helps the New Settlers
First Thanksgiving – Celebrating the First Year
Pequot War – Settlers and Indians Fighting
King Phillip's War – More Settlers and Indians Fighting
The Quakers Come to America
William Penn Settles Pennsylvania
The Tragedy of Salem Witch Trials
Colonial Families
Colonial Housing
Colonial Clothing
Colonial Trades
Colonial Money
Colonial Crime and Punishment
The Thirteen Colonies
Comes with an easy to understand assembly and even a study guide!